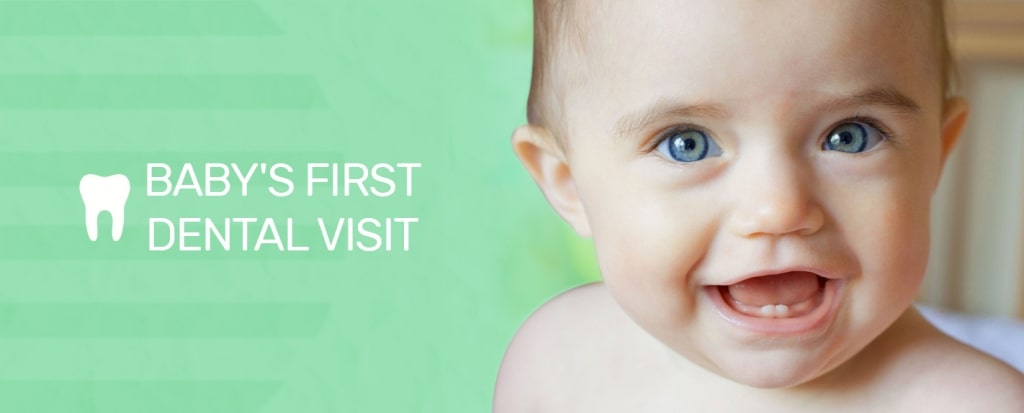 As a parent, you have the unique privilege of experiencing a lot of milestones with your child. You get to be present the first time they eat solid food, watch proudly as they sit up on their own and cheer for them as they take their first steps. Among the less-documented — but equally important — firsts is your baby's first dental visit.
When it comes to scheduling your child's first dentist appointment, there can be a lot of apprehension for both children and their parents. The good news is that pediatric dental appointments don't have to be stressful. In fact, they can be fun! Preparing for the dentist and experiencing a dental appointment together is a great way to teach your child more about taking care of their body. And, while your child may not have a full set of teeth yet, it's essential to help them establish good oral habits that will follow them as they grow.
As you prepare your child for the dentist, you may have some questions. That's completely normal, and Sprout Pediatric Dentistry & Orthodontics is always ready and willing to answer any questions you have. But, we've also found that first-time parents often share many of the same questions and concerns. So, we've compiled a list of the most commonly asked questions and our recommendations for making your baby or toddler's first dentist visit a low-stress event for both parent and patient.
In this guide, we'll cover:
1. When Should a Child See a Dentist for the First Time?
According to the American Academy of Pediatric Dentistry and the American Dental Association, your child's first dentist visit should occur by the age of one or — if they begin teething early — within six months of getting their first tooth. Since infants typically start teething anywhere between 3 and 6 months, this means that your baby's first dentist visit may occur slightly before their first birthday.
While it is recommended that your child see a pediatric dentist by age 1, many (aka most) parents miss this mark. No worries! There are many other parents right there with you. It is not uncommon for a child's first visit to be at age 2, 3, or 4 (and sometimes even later)! Regardless of when you decide to bring your child in for their first visit, we are continuously adapting to each child's age, temperament, and developmental readiness, so that their first visit feels comfortable and fun!
It's important to establish good oral hygiene from the very first tooth. Even before your child's teeth begin to come in, you can introduce them to good oral hygiene habits by regularly wiping their gums with a damp cloth. As soon as teeth start to pop in through the gums, start brushing them with a soft bristled tooth brush.
2. What Happens at the First Dentist Appointment?
If you are a new parent — or just new to our practice — you may be wondering what to expect at your child's first dentist appointment. The main goal of this first visit is to begin to introduce your child to our office, our staff and the idea of dentistry. Young children can often feel a lot of apprehension over the dentist (and much of this apprehension can come from the parents that the children pick up on), so we spend a lot of time simply putting their minds at ease and teaching them there's nothing to be afraid of.

To prevent meltdowns and tantrums, we recommend that parents schedule their toddler's first dentist visit in the morning. This is because children are typically at their best earlier in the day, so they are less likely to become upset and overwhelmed during their first pediatric dental visit if they're rested and alert.
We always tell our patients to allow one hour for their visit, but we recognize that even the most well-behaved children aren't going to sit still for that long. Our goal is to have your exam completed in less than an hour.
During your baby's first dental checkup, they will receive a:
Tour: Before beginning the seated portion of our appointment, we'll show them the dentist's chair, the tools we use, and briefly explain what we'll do when we look at their mouth and teeth. For many children, greeting our caring staff and seeing our facilities can go a long way at putting their mind at ease. It also helps them to stay calm once they're in the chair and see the dentist or hygienist start using their tools of the trade. Of course, our tour is also for the benefit of our parents, helping them to become familiar with our office and comfortable with our staff.
Exam: During the first visit, you can expect to sit in the dentist's chair with your child on your lap (for those patients ages 0-2). While some older children may be willing to sit in the chair on their own, most little ones are more comfortable when they know their parents are close by. Once you are both comfortably seated, the dentist will begin your child's exam. Whether your child has one tooth or a mouthful, they'll count and examine each tooth, as well as check out your child's gums, jaw and bite. In some cases, we may want to take x-rays (generally once your child reaches the age of 4), but we don't do x-rays at every visit and, for such young patients, will only take x-rays if we think it's medically necessary.
Cleaning: We do a thorough cleaning at every exam, although if your child only has one or two teeth, this might be very quick! For babies and toddlers, we often will use a regular toothbrush to perform their cleaning. This is developmentally more appropriate for the littles and is a great opportunity for the dentist to demonstrate at-home brushing techniques. For children who are comfortable sitting in the chair on their own, we use a soft rubber polishing brush. This provides a gentle deep cleaning for their delicate teeth.
Fluoride: Portland doesn't add fluoride to the water, so applying fluoride treatments at a dental visit is an effective way to protect your child's teeth. We always recommend this treatment, although we recognize that some parents prefer that we don't include a fluoride treatment. Many of our parents may remember the old-school way of applying fluoride by cramming Styrofoam trays of gooey fluoride into their mouth. We are happy to say that at Sprout Pediatric Dentistry, we simply paint fluoride onto our patients' teeth with a brush. And it takes a matter of seconds! Besides being a more comfortable way to apply fluoride, your child will be able to eat and drink immediately after they leave our office.
3. Can I Stay With My Child During Their Appointment?
Yes, of course, you can! We realize that young children become apprehensive if they are separated from their parents, even in the best of situations. We don't want to do anything to cause undue stress for your child — or for you. If this is your baby's first dentist appointment, your baby will sit in your lap as we perform the exam and discuss guidance on your child's oral hygiene.
As your child ages, we will work with you to encourage them to sit in the dental chair on their own. However, we recognize that some children may still need their parent to remain close during their exams. We are always happy to work with you and your child to make sure you are both comfortable throughout their appointment.
4. How Do I Prepare My Child for Their First Dentist Visit?
Preparation for a dental visit begins at home and always depends on the age and developmental stage of your child. Obviously, a 10- or 11-month-old will not understand as much as a 2-year-old, but they can pick up on your tone of voice and your feelings. They can tell if you are excited about something or if you are angry or sad. Which means that how you talk about the dentist will have a significant impact on how your children feel going into their appointment.
As you talk about your child's upcoming dental visit, be careful not to influence your child with fears or anxieties that you may have about the dentist. For some parents, this can be difficult if they had an unpleasant experience in the past and struggle with their own anxiety when they visit the dentist.
So how can you prepare your child?
Stay calm: If you treat the dentist like it's no big deal, then it will signal to your child that there's nothing unusual or scary about a visit to the dentist.
Address fears: If your child expresses fear, address it. Talk with them about all of the good that comes from visiting the dentist and always avoid talking about unpleasant dental procedures or negative things like cavities.
Read books about the dentist: Visit your local library or bookstore to find age-appropriate books about dental visits and hygiene. Knowing that other people go to the dentist and seeing pictures of a dentist's office in advance can help your child stay calm and reduce their fear of the unknown.
Explain in simple terms: If your child is old enough to understand what you're saying, then you can give them a general idea of what to expect. Use simple phrasing that will make sense to them, such as telling them the dentist will "count their teeth," "take pictures of their teeth," and "brush their teeth." Avoid using words that can lead them to believe it will be painful, such as "drilling," "shot," or "hurt."
Even with all of the best intentions, your child may be nervous at their first appointment. They may cry or refuse to let the dentist look inside of their mouth. Don't be discouraged. Even if your child won't let the dentist do everything at the first appointment, your time with us is laying the groundwork for future visits to Sprout Pediatric Dentistry. By establishing a connection with a dentist early on, you teach your child that the dentist is a normal part of their life. Over time, this will help to prevent anxiety over dental visits and, if the time comes when they do need dental work, they will be comfortable enough to let us help them.
Tips for Your Child's First Dentist Appointment
As a parent, preparing your child for the dentist starts at home. The best way to prep for your child's first dentist appointment is to make sure you are prepared as well.
1. Be a Good Role Model
When you practice good oral hygiene at home, you are modeling good oral hygiene for your child. By teaching them that it's vital to take care of their teeth, you are setting the stage for the necessity of going to the dentist. Besides letting your child watch you brush and floss, take the time to make their own oral hygiene fun. As you help them brush and floss, incorporate rhymes and songs into their routine. If they're still hesitant, buy them an age-appropriate toothbrush and toothpaste that has their favorite cartoon characters on it to encourage them to get excited about this part of their day.
2. Make the First Visit an Adventure
When you create excitement around your child's first dental visit, you turn it into a fun outing, rather than a dreaded appointment. Feel free to call our office for a description of the toys we have in our waiting room or a rundown of all the kid-friendly movies we have available in our exam rooms. We're happy to provide you with plenty of details to convince your little one that their visit to Sprout will be relaxing and perhaps even fun!
3. Incorporate the Dentist Into Playtime
If your child is old enough, consider a "pretend" dental visit in the comfort of your own home. Hold up a mirror to their mouth, count their teeth and brush. Take turns sitting in a chair, and let your child take a turn doing the same to you. Just avoid making drilling sounds or other noises that might cause them to be afraid.
4. Avoid Bribery
We get it. It's tempting to offer your child a piece of candy or a milkshake if they'll just cooperate at the dentist. Food — especially sugary treats — can be a powerful motivator for young children, but it's not a good habit to get into. Besides being generally unhealthy, bribing your child with candy to behave at the dentist goes against our goal of encouraging good oral health. It can also make it difficult for our dentist to assess your child's oral health if they're working around bits of crackers, raisins or candy stuck in your child's teeth.
If your child is young and may need the incentive, use non-edible bribes to encourage their cooperation. Perhaps you can plan a trip to the park after your dental appointment. Throughout the visit, remind them that you'll be heading to the slides as soon as they allow the dentist to finish. Or, plan an outing to visit a friend or a grandparent after their dental appointment, and use their excitement to see a loved one as motivation to behave.
Our Pediatric Dentist, Dr. Dana Fox, is a mom too!
Dr. Dana is not just a pediatric dentist— she's a mom too! In addition to being a board certified pediatric dentist, Dr. Dana is a mom to two busy little ones. She understands the highs and the lows to infant brushing and toddler independence. She practices what she preaches and shares real-life advice to parents in regards to oral health home care. You can rest assured that your child is in the best of hands during their first visit at Sprout Pediatric Dentistry & Orthodontics.
Sprout Pediatric Dentistry & Orthodontics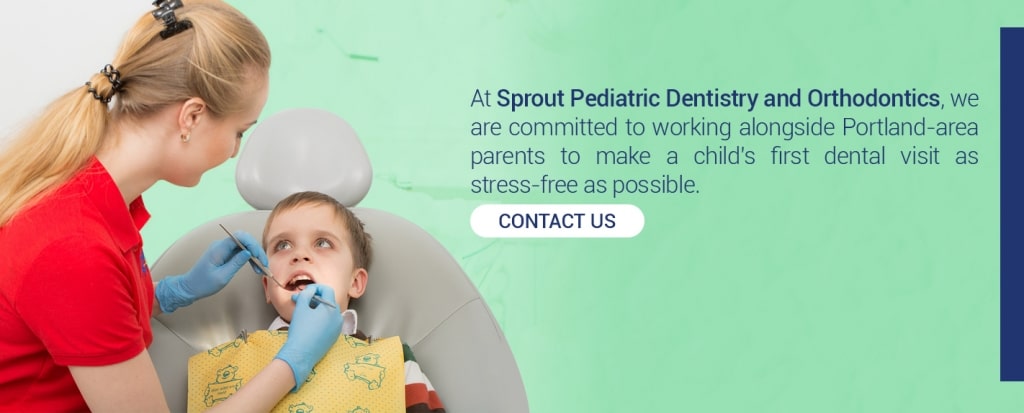 Your baby's first dental visit is an important milestone. It can set the tone for their opinion of the dentist and their cooperation in the future. At Sprout Pediatric Dentistry & Orthodontics, we are committed to working alongside Portland-area parents to make a child's first dental visit as stress-free as possible. Easily accessible in Portland's Buckman neighborhood, our staff works with all ages of children, from their first tooth until they head off to college.
By offering dental and orthodontic care in the same office, our goal is to reduce the amount of running around you need to do and, at the same time, provide high-quality dental care with dentists and orthodontists who work together and consult on your child's specific needs.
Enjoy the highest level of compassion and professionalism in dentistry. Don't wait. Book your baby's first dental appointment today!