Kids Dental Checkup and Teeth Cleaning in Portland, Oregon
Prevention and education are primary drivers to a life of good oral health, whether you're five or 50. That's why when you bring your kids to Sprout Pediatric Dentistry & Orthodontics, we focus on preventive dentistry first and foremost. Visits to the dentist should be as routine as getting a hair trim or checkup with your pediatrician. These exams allow us to ensure your child is staying on top of their oral hygiene, while at the same time, we can address any issues we see.
Frequent dentist visits also help your child feel more comfortable, curbing any dental anxiety before it even begins. After all, when the dentist is an enjoyable experience filled with familiar faces, your kids will know that it's nothing to be afraid of. But what's involved in these regular dental checkups? Here's what you and your child can expect when you come for your appointments at Sprout Pediatric Dentistry & Orthodontics.
Your Child's Dental Checkups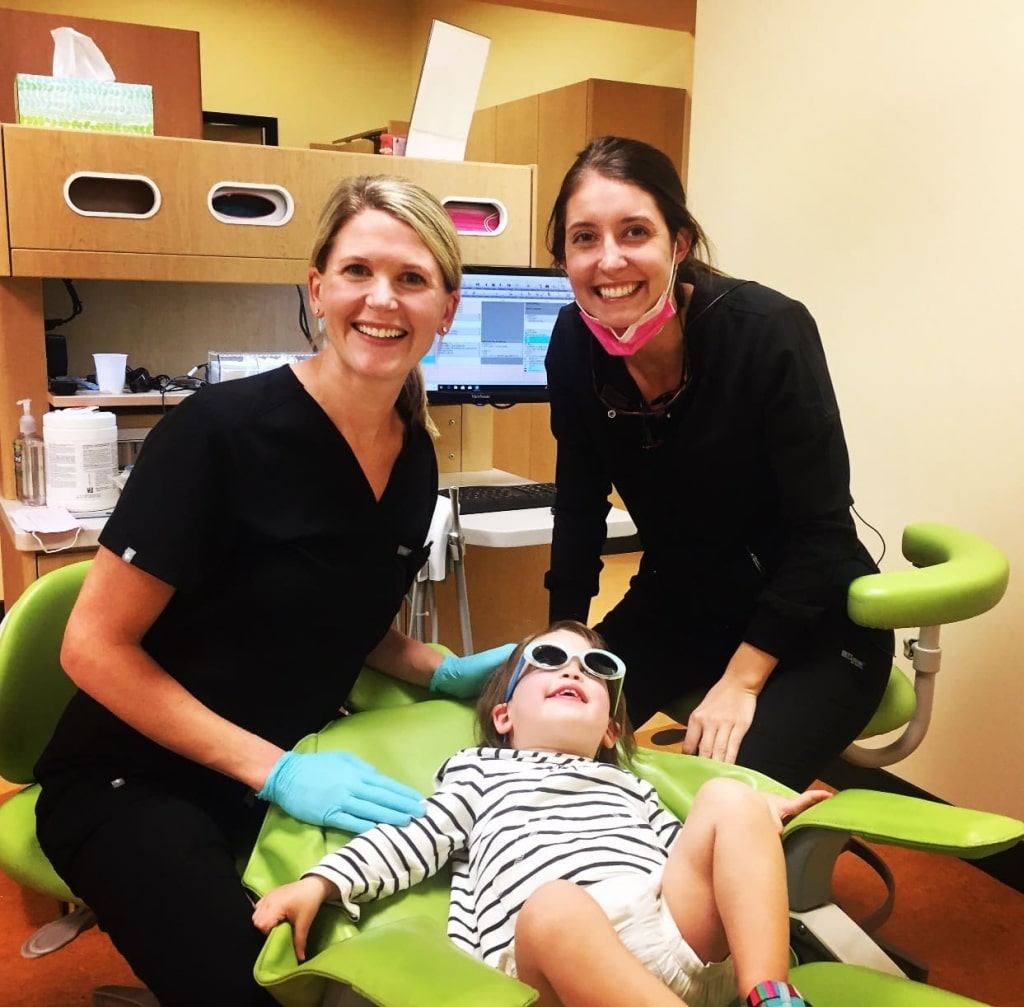 During your child's regular dental checkup, our focus on preventative care will help set them up for successful oral hygiene. We provide education about proper brushing and flossing techniques alongside the following dental services:
Teeth cleaning: Each child requires individualized oral hygiene care, which includes tartar and stain removal, a toothbrush demonstration and basic instructions that will help you and them continue good habits at home.
Dental exam: At this time, the dentist will count your child's teeth and check for new cavities or signs of tooth decay. They'll also inspect any existing fillings. You can expect the dentist to evaluate your kid from the neck up, including overall dental growth and development of the jaw joint, gums, cheeks, lips and other soft tissue. The dentist can also address any tooth or gum pain your child may be experiencing.
Fluoride treatment: If you're not sure about fluoride treatments, please let us know your concerns ahead of time, and we'll happily address any questions you have. There are many benefits to the use of fluoride, and with your permission, we'll discuss fluoride treatments with your child, including supplemental drops, tablets, toothpaste and more. We'll also apply a topical fluoride varnish, which is painted on in just seconds. New advancements in fluoride application now allow children to eat and drink immediately after fluoride treatment as well!
X-rays: These x-rays are done on an as-needed basis — usually every one to two years. Before we take any, we'll discuss the need for it with you. There are a few different types of x-rays we could use based on your child's age, dental development and history of cavities. Radiation safety is important to us, so we'll properly cover your child with x-ray aprons/vests. And our digital x-rays provide 50-80% less radiation than traditional x-ray machines.
Sealants: Sealants are a preventative service we provide in the fight against cavities based on your child's individual needs. This protective coating is applied to the grooves of the back teeth, preventing plaque, bacteria and food debris from becoming embedded. When children have deep grooves, they're at higher risk for plaque retention, which can lead to tooth decay.
Silver Diamine Fluoride: This special fluoride application can be applied to tooth decay, and acts to kill the bacteria of dental cavities. Think of it as a way of treating cavities with a medicine, rather than with fillings. No numbing or drilling, and it just takes minutes to apply.
Consultation and Guidance From Your Child's Dentist
Another important aspect of your child's regular dental visits is when the dentist addresses your specific queries and provides individualized guidance. Our team is here to serve you and answer any questions you have. That's why you'll be able to consult with the dentist to get additional information about your kid's oral health care. This meeting can include topics like:
Dental growth
Cavities
Wisdom Teeth
And more
Request an Appointment for Your Child's Teeth Cleaning and Other Pediatric Dental Services
Remember that good oral hygiene begins young. When you schedule regular teeth cleanings for your kid, you're showing them that the dentist should be a part of their normal routine. Plus, starting them young allows your child to grow comfortable and get to know the team at Sprout Pediatric Dentistry & Orthodontics. Request your child's appointment today, or give us a call at 503-477-9911.