Portland Orthodontist
Our Portland orthodontist, Dr. Paul Fox, uses braces and Invisalign to deliver amazing results, which creates a beautiful smile that can last a lifetime. We realize that orthodontics is more than just straightening teeth. It's about creating confidence and self-esteem that can be life-changing. We strive to deliver the best possible experience throughout treatment and always maintain a compassionate and professional demeanor.
What Exactly is "Orthodontics"?
Orthodontics is the specialty of dentistry that focuses on straightening teeth and aligning jaws. Orthodontists do additional training after dental school to learn how to straighten teeth efficiently and effectively.
Why Everyone Should Have an Orthodontic Examination
Just like no two people have the exact same fingerprint, each person's orthodontic needs are unique to them. It is important that each patient gets a thorough examination and diagnosis, and that a treatment plan is created specifically tailored to address each patient's unique problems.
The American Association of Orthodontists recommends that every child have an initial consultation by the age of 7. This recommendation is great to assess if anything is happening that is time-sensitive to correct. However, we totally understand that life gets busy, or maybe the dentist never recommended an orthodontic assessment. So if your child is past the age of 7 and hasn't had an orthodontic exam, no biggie! Give us a call and we will get you scheduled today. The reality is that the best time to have an orthodontic check-up is when you and your family are ready.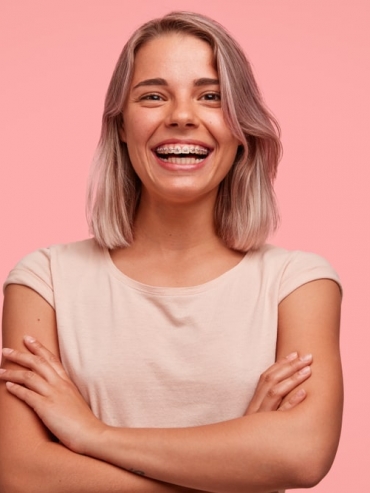 Complementary Orthodontic Consultation
We offer a free initial consultation appointment to anyone interested in orthodontic treatment— kids, teens, and even adults! This no-obligation appointment offers a great opportunity to learn what orthodontic problems your child may have, and how they can be corrected.
Cost of Braces
There are many payment options and discounts available at our office for orthodontic treatment. We offer an in-house, interest-free payment plan that can work within your monthly budget to make braces affordable. Before your initial consultation appointment, we will call your insurance company on your behalf to find out if they cover orthodontic treatment and how much the orthodontic benefit is. That way we will be prepared to discuss all the financial options at the actual appointment. We believe in transparent, upfront discussions about payments so there are no surprises in the future.
Technology and the Latest Orthodontic Advancements
Our Portland office is up to date on all the latest orthodontic technologies and treatment methods. We utilize braces and Invisalign to deliver incredible orthodontic results. Straight teeth not only look good, but they can improve the bite too. They can also make brushing and flossing the teeth easier and hopefully lead to less cavity and gum problems. Schedule an appointment to meet with our Portland orthodontist today.