Invisalign for Teens and Adults in Portland
For decades, metal braces were the only option for kids or teens who wanted to straighten their teeth. Unfortunately, those who wore conventional braces had to deal with a mouth full of metal as well as pokey wires and sore teeth. Today, metal braces are small and subtler than ever, plus you can choose a variety of rubber band colors at each of your orthodontic appointments. But if you want a new smile and don't want to wear braces, there is an alternative — Invisalign® or Invisalign Teen®.
Also called clear aligners or invisible braces, Invisalign is an alternative to traditional braces that subtly gives your child the smile they dream of. Orthodontic services are generally recommended for adolescents. However, children as young as seven can come to Sprout Pediatric Dentistry & Orthodontics for a consultation to determine the extent of their orthodontic needs. At your orthodontic consultation, you can learn more about Invisalign and clear aligner options.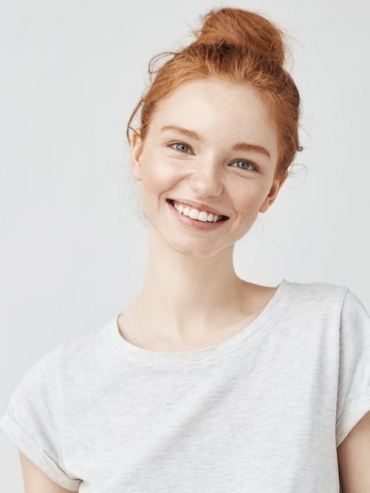 How Invisalign Works
Invisalign and Invisalign Teen usually work without the use of wires or brackets. The process involves a series of clear, custom aligners individually created to progressively straighten teeth. The appliance resembles a very thin mouth guard made of BPA-free plastic, which allows teens and adults to maintain a relatively normal appearance.
A 3D software program is utilized to create a series of individually designed invisible aligners. With them, your orthodontist will be able to prescribe each movement to gently guide your teeth, correcting your alignment and giving you your desired results. At the end of the process, you'll be able to enjoy an amazing smile.
For optimal results, your orthodontist will recommend that your child wears their aligner between 20 and 22 hours a day, only removing them when they're eating, drinking or brushing and flossing their teeth. About every two weeks, the aligners are switched out, getting ever closer to the end result. We'll also have your teenager back in our office about every eight to twelve weeks to check their progress and ensure their teeth are moving correctly.
Benefits of Invisalign Over Traditional Braces
Although both clear aligners and traditional braces have their own advantages, many of our young patients prefer Invisalign over metal braces for quite a few different reasons. This option is:
More discreet
Has fewer food restrictions
Able to allow easier cleaning and hygiene
More comfortable, as plastic is smooth and won't irritate the tongue or cheeks
Responsible for less force on teeth, so they don't feel as sore
Versatile
When it's all said and done, Invisalign allows your teenager to live their life with minimal interruptions.
Schedule Your Appointment at Our Portland Office to Learn More About Invisalign and Other Clear Aligners
If your teenager hates the idea of metal braces, it's time to consider other options. When you come to our Portland office, we'll provide you with all the information you need to make the best choice for you and your kid, whether it's Invisalign or another clear aligner option. Schedule your consultation with us today, or give us a call at 503-477-9911.