It's never too early to start thinking about your baby's dental care. Encouraging good dental habits at a young age can set your child up for a lifetime of healthy teeth and gums. While you can start cleaning your baby's teeth on your own at home as soon as their teeth begin to appear, knowing when to take your child to the dentist can be less clear.
Below, you'll learn when a child should see the dentist for the first time, how to prepare for your child's first dentist appointment and what to expect at the office. Keep reading to discover how to take the best care of your child's oral health.
In this guide, we'll cover:
When Should a Child See the Dentist for the First Time?
A child should have their first dentist appointment by the time they're 1 year old, according to the American Dental Association (ADA). Once a baby starts teething, they should see the dentist within six months of their first tooth coming in. Because infants usually begin teething between 3 and 6 months old, a baby's first dentist visit typically happens right around their first birthday.
Dentists take care of more than just teeth — a dental checkup can be beneficial to your infant's oral health regardless of whether they have teeth yet or not. Even if your child begins teething later than the average age, you can still take them to see the dentist before they develop a tooth. If your child has not gotten a tooth by the time of their first birthday, you should go ahead and bring them in for a dentist visit anyway.
Of course, every child is different, and the answer to "When should I take my child to the dentist?" can vary. Although experts recommend taking your baby to see a pediatric dentist around their first birthday, there is no need to distress if you miss this milestone. Many parents don't quite hit the one-year mark. It's common for a young child's first dentist appointment to happen at age 2, 3 or even 4.
Regardless of when you choose to schedule your child's first dental exam, make sure you book the appointment with a reputable board certified pediatric dentist. Just like you would take your baby to a pediatrician for their primary care physician, taking your child to a pediatric dentist ensures they see a qualified professional with expertise in working with children.
Pediatric dentists are specialists who have received extra training beyond dental school to learn how to treat children and provide them with the best experience and care possible. A reliable pediatric dentist will be able to adapt to your child's age, developmental readiness and temperament to make their first dentist visit comfortable and enjoyable.
Why Is It Important for Children to Go to the Dentist Early On?
Now that you know when you should schedule your baby's first dentist appointment, it's time to discuss why you should make it. Discover the importance of a child's first dental visit with the following advantages:
1. Establish Healthy Oral Care Habits
Children should see the dentist early in their lives because it's essential to form good oral hygiene habits from the very first tooth. Even before your baby gets their first tooth, you can introduce them to healthy oral hygiene practices by routinely wiping their gums with a damp cloth. Once you start to notice teeth popping in through your child's gums, begin brushing their gums with a soft-bristled toothbrush. Those practices and regular dental visits will set your child up with healthy dental hygiene habits early on.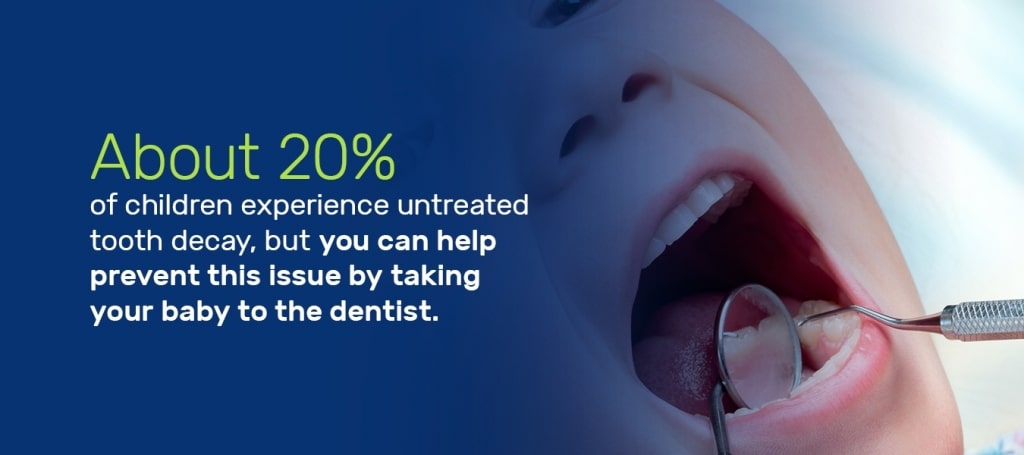 2. Prevent Tooth Decay
Visiting the dentist early in life can help your child avoid tooth decay and other oral health problems. About 20% of children experience untreated tooth decay, but you can help prevent this issue by taking your baby to the dentist.
3. Protect Overall Health
Taking your child to the dentist at an early age can help preserve their oral health and general health. Introducing your child to good oral hygiene early on will ensure they have healthy gums and teeth, which will allow them to chew and speak comfortably.
Teaching your children to take care of their oral health early can also help them avoid serious health issues later in life. Concerns like heart disease, diabetes and osteoporosis have a strong link with oral health. Taking the initiative to schedule a dental exam for your child early can protect their oral and overall health for years to come.
4. Provide Parental Education
An early dentist visit can benefit the parents just as much as their infant. At the appointment, your dentist can show you how to clean your baby's teeth and gums properly. They can also supply you with clear instructions on how to prevent tooth decay and other dental problems. Your dentist can address other key childhood dental concerns throughout the appointment based on your infant's needs, as well.
In particular, your dentist can provide you with information about these topics during your baby's first dental exam:
Teething
Mouth cleaning
Infant feeding practices
Baby bottle tooth decay
Pacifier habits
Finger-sucking habits
Any other infant dental issues you may have questions about
5. Create Positive Associations
Helping your child grow accustomed to visiting the dentist at an early age will teach them that going to the dentist's office is nothing to worry about. Approximately 36% of people experience some anxiety or fear about visiting the dentist. But you can minimize the chances of your child developing these negative feelings by helping them create positive associations with the dentist's office.
The memories we create in our earliest years can impact us for the rest of our lives, so you should provide your child with fond memories of going to the dentist. At your child's initial dental exams, the dentist will not do much poking or prodding. Instead, the appointments will be used more as opportunities for your child to become comfortable at the office.
These first few visits will allow your child to familiarize themselves with the staff and build trust with them. Only once your child is comfortable, the dentist will take a look at their mouth. This positive dentist-patient relationship will help your child feel more relaxed about visiting the dentist in the future. Who knows — they may even grow to look forward to each dental appointment!
How Do I Prepare My Child for the Dentist?
While your child's first dentist appointment may seem daunting, you can make the visit feel more manageable by preparing for it. Being well-prepared will put both you and your child at ease. To help your child's first dentist visit go smoothly, here are tips on how to prepare your child, yourself and your dentist.
How to Prepare Your Child
The first step to preparing your child for visiting the dentist is to schedule an early morning appointment when your child is fresh and at their most alert. You also want to ensure your child feels as safe and comfortable as possible about going to the dentist's office. The best way to help your child feel calm is to remain calm yourself. Your child will pick up on your positive view of the dentist and most likely react similarly.
Of course, preparation for visiting the dentist depends on your child's age, and an infant will not understand as much as a toddler. But babies can sense your tone of voice and feelings, so you should seem happy and excited when talking about their dental appointment. This positivity can have a significant impact on how your child feels about seeing the dentist.
If your child is old enough to have a discussion about seeing the dentist, try to give them a basic idea of what to expect at the visit. Explain in simple terms why going to the dentist is important and how it can help them grow up strong and healthy. You could also read age-appropriate books about the dentist with them to help them relax and alleviate the fear of the unknown.
During your discussion, make sure you choose your words carefully so you don't frighten your child unnecessarily. Avoid using words that insinuate seeing the dentist will be painful, such as "shot," "drilling" or "hurt." Treating a visit to the dentist like it's not a big deal will signal to your child there's nothing to be afraid of.
Instead, use positive, non-threatening words to describe in plain language what the dentist will do during the appointment. Use phrases that will make sense to your child, such as telling them the dentist will "brush their teeth," "count their teeth," "clean their mouth" and "take pictures of their teeth." Having some idea of what to expect can help your child feel more at ease with this new experience.
How to Prepare Yourself
Even though you won't be the one receiving the dental exam, you'll still need to prepare yourself for your child's first dentist visit. Discuss any concerns you may have with the dentist before the day of the appointment. Come prepared with a list of any oral health questions you want to ask the dentist so you don't forget anything important.
If you have your own dental anxieties, be careful not to let those fears or negative associations influence your child's view of the dentist. Because children can quickly pick up on their parent's anxieties and become worried themselves, you can provide moral support by appearing relaxed and calm throughout the appointment.
How to Prepare the Dentist
For your child's first dentist visit, you will need to provide the dentist with a record of your child's health history to go over before the appointment. You will also want to let the dentist know if your child tends to be anxious, fearful, stubborn or defiant in certain situations. Depending on your child's age, you may also alert the dentist of any behavioral or temperamental issues that may occur.
In general, these are the main problems linked with children's ages:
Infants: Many babies under 1 year old are highly attached to their parents and do not react well to being removed from their parent's side for the dental exam. To alleviate this, most infants will stay sitting on their parents' lap during the dental exam.
Toddlers: By the time they reach 3 years, most children can cope with being away from their parents for a brief time. But they may not deal well with being separated for the entire duration of a dental procedure like getting a cavity filled. Therefore, we always allow (and encourage) parents to be in the room during the cleaning and exam.
Four-year-olds: Most children are able to be apart from their parents for dental exams and treatment procedures by the time they're 4 years old. However, it is still important for parents to be present so they can listen to any feedback from the dental team.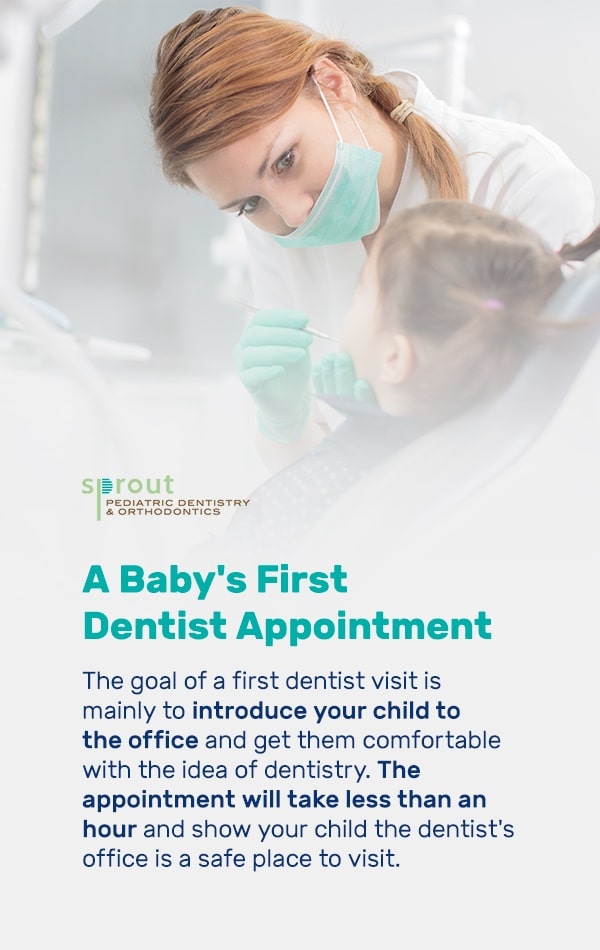 What Happens at a Baby's First Dentist Appointment?
Knowing what to expect at your baby's first dentist appointment can help you be better prepared. The goal of a first dentist visit is mainly to introduce your child to the office and get them comfortable with the idea of dentistry. The appointment will take less than an hour and show your child the dentist's office is a safe place to visit.
At Sprout Pediatric Dentistry & Orthodontics, a typical first dentist appointment includes:
A tour: To get started, the dentist will show your child the dentist's chair and the dental tools used for a checkup. They'll briefly explain what happens when they look at your child's mouth and teeth. For children who are old enough to understand, having a conversation about the exam and meeting the staff helps them feel calmer and safer. If your child is an infant, a short tour is still beneficial for helping parents to become familiar with the office and staff.
An exam: After the tour, the dentist will begin the exam portion of the visit. Children under 2 years of age will usually sit in their parent's lap in the dentist's chair to make them feel more comfortable. During the exam, the dentist will count and assess each tooth along with your child's gums, bite and jaw.
A thorough cleaning: Each exam includes a routine cleaning, which may be very quick for babies with only a few teeth. For your child's first visit, the dentist will use a regular toothbrush to complete the cleaning. Using a toothbrush instead of dental tools creates an opportunity to demonstrate proper at-home brushing techniques. Older children who can handle sitting in the dentist's chair by themselves will receive a cleaning with a soft rubber polishing brush. That tool provides delicate teeth with a gentle, deep clean.
A fluoride treatment: The dentist might apply a fluoride treatment to help protect your child's enamel and prevent cavities. Although the treatment used to be applied by placing Styrofoam trays filled with fluoride into patients' mouths, dentists now simply paint a drop or two of a fluoride varnish treatment onto patients' teeth with a brush. This method is far more comfortable than the old one, takes mere seconds and allows your child to eat or drink immediately following their appointment.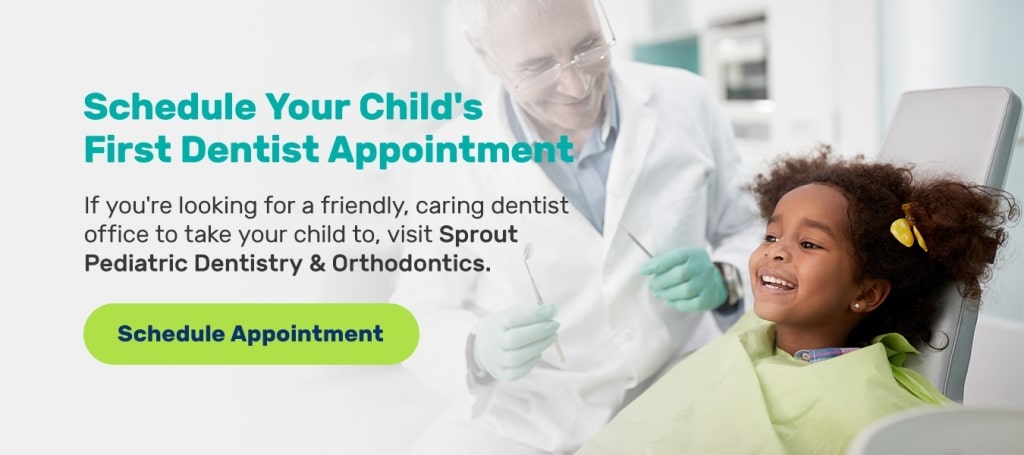 Schedule Your Child's First Dentist Appointment With Sprout Pediatric Dentistry & Orthodontics
If you're looking for a friendly, caring dentist office to take your child to, schedule an appointment with Sprout Pediatric Dentistry & Orthodontics. At Sprout, we're dedicated to providing the highest quality pediatric dental care in a warm and welcoming environment that kids will actually look forward to visiting. We even offer the option of watching a movie during dental exams and cleanings to help put children at ease.
Along with a thorough exam and cleaning, the Sprout team will offer oral hygiene tips like how to brush your baby's teeth so you can ensure your child stays healthy in between visits. Our dental team loves children and their families and looks forward to becoming your regular pediatric dental choice. No referrals are needed for children to visit our office, so you can book your appointment today!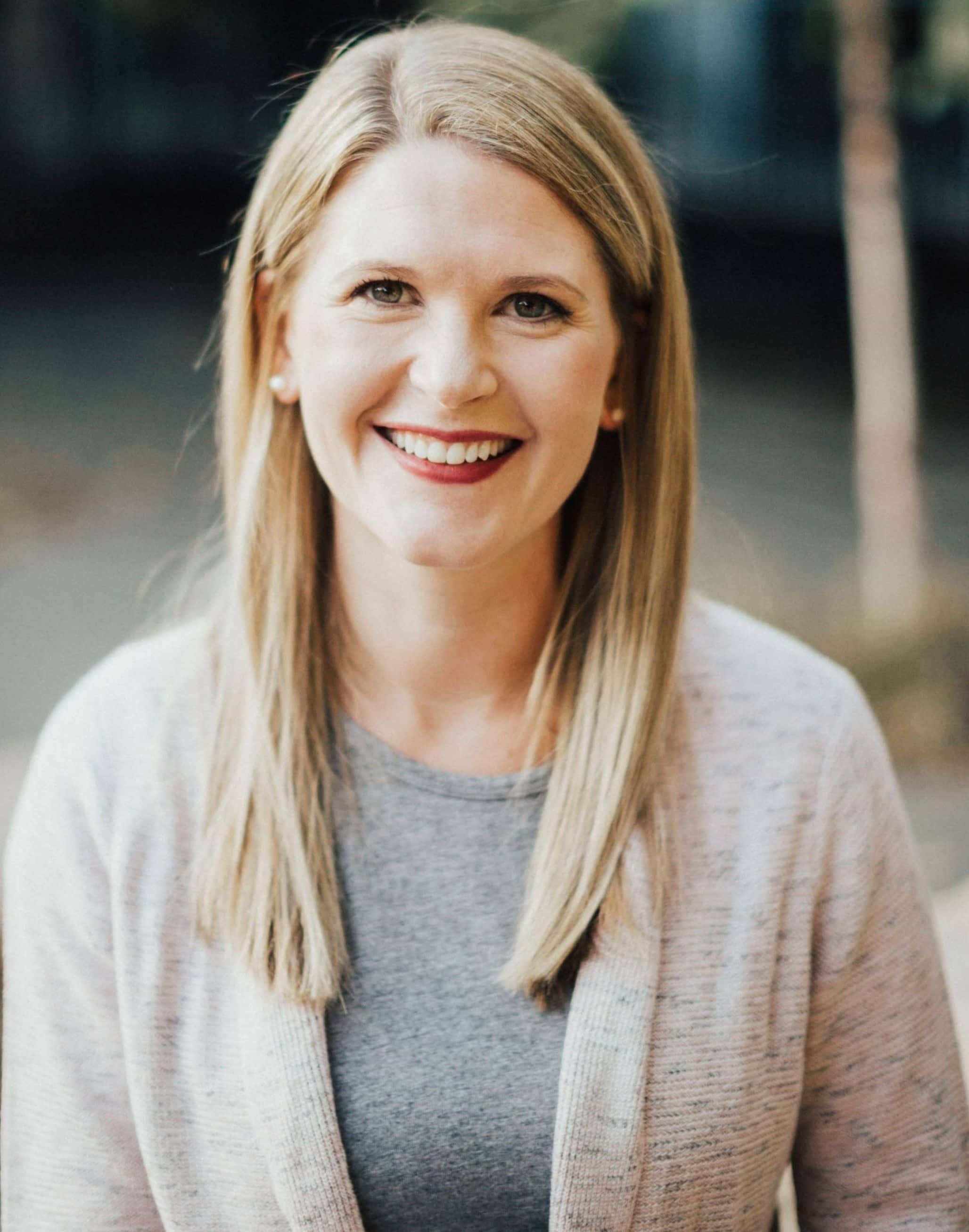 Dr. Dana grew up in Portland and went to Temple University in Philadelphia, PA for dental school. She then moved to Anchorage, AK for her residency in Pediatric Dentistry. Dr. Dana takes a holistic approach to pediatric dentistry & is able to use her own parenting experience to sympathize and understand each family's unique dynamic.