Braces Tips
If your child recently got braces for their teeth or if you're preparing for this milestone, congratulations! They're well on their way to a healthier, gorgeous smile. During the time their braces are on, it's essential they protect their mouth by following some basic guidelines for caring for the braces and teeth.
In the first few days after your child's braces have been placed onto his or her teeth, the teeth may be tender. This is a normal part of the treatment process, and the discomfort will subside quickly. The good news is that this sensation is an early indication of tooth movement.
In the meantime, it's never too soon to start practicing good oral hygiene and making some changes to daily habits to protect your child's teeth and mouth, while the braces are doing their work. The sooner your child can implement these tips to caring for braces and establish healthy habits, the healthier their teeth and mouth will be later.
How to Take Care of Your Braces
The goal of having braces is to improve the overall health of the mouth and teeth, and create a beautiful, confident smile. But if your child isn't taking care of their teeth while the braces are on, they can easily develop stains, cavities and gum problems that can cause issues later in life. This is why it's critical to follow an orthodontic braces care routine. What is a braces care routine and how does it differ from what they've done before braces?
1. Brush Regularly
When it comes to brushing with braces, it's a good idea to follow the two-by-two plan — brush twice a day for two minutes each time. Choose fluoride toothpaste and a soft-bristled brush. Have your child take off any rubber bands or other removable accessories and then get to work! For two minutes, start on the top and, using a gentle circular motion, begin moving the toothbrush across each tooth. As they brush, encourage them to make sure to move the brush down below the wires to get everything above and below the braces. Once they've done this across all the teeth on the top, move to the bottom teeth and repeat.
2. Floss and Mouthwash
Since a toothbrush won't reach all the crevices and cracks between each tooth, your child should floss once a day as well. Floss with a threader or other flossing aid to get in between each tooth and remove food particles the toothbrush may have missed. Then, once they're done brushing and flossing, remind them to rinse with mouthwash to reach any stubborn areas that might need some extra attention.
3. Water Pik
Although they don't replace flossing, oral irrigators such as the Water Pik, can be an excellent adjunct to the braces oral hygiene regime. There is a bit of a learning curve with getting the hang of using a Water Pik, but once it is incorporated into the home routine, many patients love it. Oral irrigators can be a great tool to help with the removal of stubborn food debris that the toothbrush and floss missed.
4. Check the Mirror
Once those steps are complete, remind your child to stop and check out their smile in the mirror. They should look closely to make sure there aren't any stubborn food particles that got left behind or overlooked. Also check for any areas where wires may be sticking out or out of place. Checking the braces regularly can be helpful because they can quickly identify problems and notify the orthodontist when something isn't right. Once they've examined the top and bottom braces, they can reattach any elastic bands or removable accessories they took out before they began brushing.
How to Choose a Local Orthodontist
5. Get Braces Care Tips From Your Orthodontist
An orthodontist does more than just put braces on and tighten them periodically. An orthodontist is also there to teach you and your child how to care for braces and the mouths they're in. When braces are first put on, an orthodontist and their staff will sit down with you and your child to talk about brushing and flossing techniques. They'll demonstrate the best way to brush and floss each day, as well as offer recommendations for preventing problems. The orthodontist will also talk about what to do if braces break or your child experiences pain while they're on.
When you talk with your orthodontist and their staff, they'll also offer tips about what your child can and can't eat — and how certain foods and drinks can impact your child's oral health. Your child may be frustrated by being told to be careful about eating certain foods, but being cautious with foods can protect your child's mouth and prevent them from encountering problems while their braces are in place. The fewer problems they encounter along the way, the quicker the braces can do their work!
6. Be Careful of the Foods Your Child Eats When They Have Braces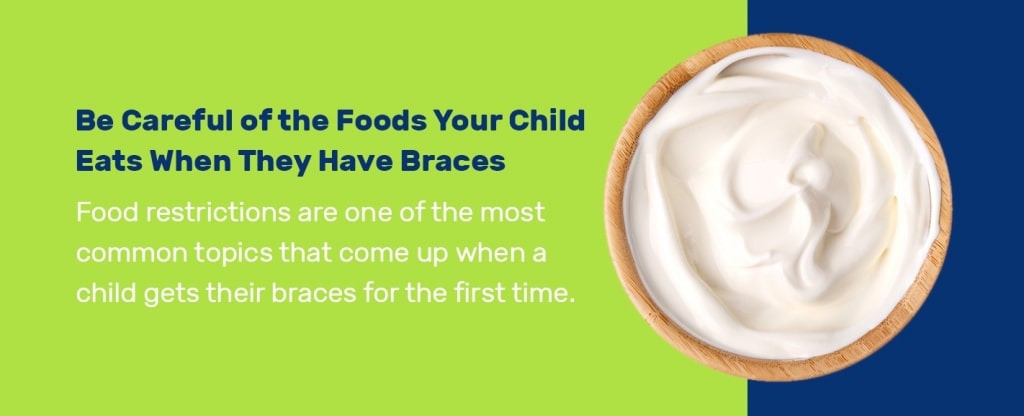 Food restrictions are one of the most common topics that come up when a child gets their braces for the first time. Often, they've encountered another friend at school or on their sports team who's experienced braces and told them all about guidelines they were given. Yes, your child will need to adjust their eating habits while they have braces, but it's not difficult to follow these guidelines. And, the good news is that it's only temporary!
Food That Is Safe to Eat With Braces
Let's start with foods your child can eat while they have braces. These foods include:
Cooked vegetables
Soft breads
Yogurt and milk
Soft fruits
Lean meats
Tofu
Soft nut butters, such as peanut butter
Food to Avoid With Braces
While your child has braces, it's best they limit or even avoid certain foods, including:
Popcorn
Hard or extremely crusty bread
Hard candy
Crunchy chips
Hard fruits
Whole nuts or seeds
Meat from a bone
Mealtime Tips
Besides paying attention to the food that your child eats, it's also important to pay attention to how they're eating it. It's easier to eat manageable bites with a fork or spoon, rather than try to bite directly into something. Yes, it's a pain to eat pizza with a fork or cut an apple into slices before eating it, but doing this reduces the risk of breaking braces or causing pain.
If your child's mouth is sore from a recent adjustment, offer them cold foods, such as popsicles, frozen yogurt or cold water. The cold temperatures of these foods will often help to ease the discomfort in their mouth.
Schedule An Orthodontics Appointment with Sprout Pediatric Dentistry & Orthodontics Today!
When your child follows these tips for braces care, they'll find that it's easier to develop and stick to a care routine for their braces. At Sprout Pediatric Dentistry & Orthodontics, our goal is to help you and your child learn how to take care of braces and keep their teeth in good shape while the braces do their work.
Whether your child has been a patient at Sprout for years or you're new to the practice, you'll find that our staff and specialists are here because they love working with kids. We want your child to have a healthy smile they'll be proud to share for the rest of their life.
Contact us today to schedule your next appointment.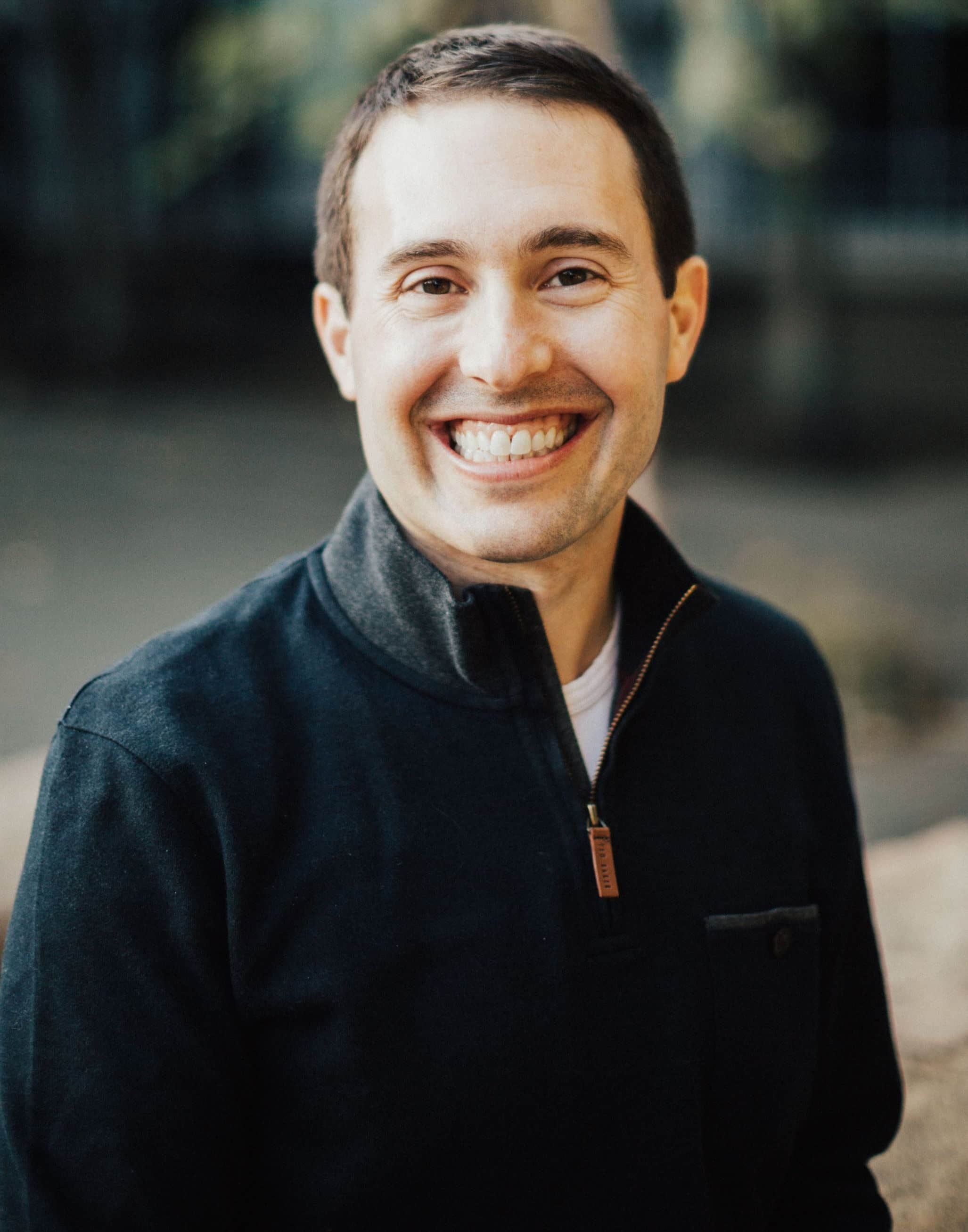 A Portland native, Dr. Paul went to dental school at OHSU and finished his Orthodontic Residency in Philadelphia, PA. Dr. Paul works with children and teenagers at his orthodontic practice.